Mingo Trails Saddle Club
Come and See What Mingo Trails is All About
Mingo Trails Horse Riding Park is a family-oriented, kid-friendly, horse loving community that is home to the Mingo Trails Saddle Club.
The Mingo Trails Saddle Club is a volunteer organization comprised of horse enthusiasts that are dedicated to the promotion and encouragement of equestrian activities. We are growing quickly with new friends and look forward to seeing you and your family soon. The facility has 102 powered and watered camping sites* and many more primitive camping sites available. We also have bathrooms with showers as well as a pavilion that serves as the base camp for all activities in the park. There is also a rink available for various uses such as training, barrel racing and other fun activities. The park consists of 21 miles of fun trails that range from easy to some more difficult terrain to match your riding skills.

Club membership is $100 per year per family and allows you year round access to the park for riding and camping. We have no hunters on the property so you may enjoy our facility year round.
If you would like to come and check out our trails, please call 478-278-6963 between 4pm and 8pm to make arraignments.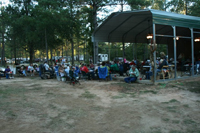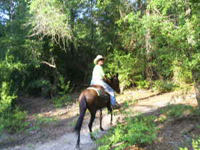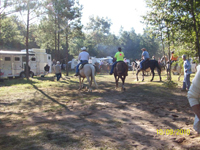 All Horses Must have Valid Coggins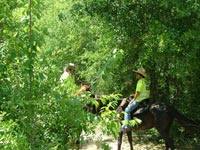 For More Information Call
478-278-6963 or 478-232-7471 or 478-232-3097
Join Us On FaceBook

Location: 3888 Little Sandy Creek Rd

GPS use 3888 Little Sandy Cr Rd

Toomsboro, Ga 31090

Water, Bathrooms & Hot Showers On Site
*Electrical and Water Hookups are Additional Charge.